BadgerBytes CMS
The BadgerBytes Content Management System (BadgerBytes CMS) is a complete web management solution for any website. It provides easy to use management tools for every aspect of the web, from a website's text and imagery (True WYSIWYG) right through to advanced content such as online shops, blogs or even private members areas.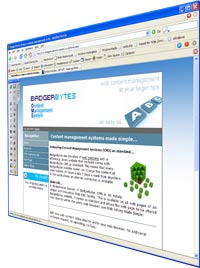 With BadgerBytes CMS you can take full control over your entire website with almost no technical skills at all. It really is enterprise level CMS made simple - Point, Click and Publish!
To make things really simple all BadgerBytes CMS websites can be managed entirely through your web browser. There's no software to download, no configuration head aches, just the comfort of knowing that you can manage your website 24x7 from any internet enabled computer in the world.
Why not give it a test drive? Go to our CMS Demo site <- by clicking here. Go to the 'Test Page' and press your Escape Key (top left of keyboard) 3 times. A log-in box will appear, then call 01323 893006 for the username and password. Within 5 minutes and you will be away making changes without thinking about it.
WYSIWYG Editor

WebEdit is a unique light weight ASP.Net XHTML WYSIWYG Editor with built in support for providing a full Content Management solution straight from the box.
Its "In Page" WYSIWYG editing features makes it one of the easiest Web Editors to use and its simple 3 step installation process makes it one of the simplest to integrate into your website.
BadgerBytes CMS

BadgerBytes CMS adds powerful & scalable enterprise level Web Content Management capabilities to any website whether small or large.
Its plug In modules currently include: WYSIWYG XHTML Editor, Private Member Areas, Discussion Forums, eCommerce Shops, Event Scheduling and many more.
Software Development

Unlike the majority of website design firms MoreNet's in-house skills span both World Wide Web and System based software development
We have developers who specialise in XHTML, CSS, DHTML, Javascript, PHP, C# Dot Net, Business Analysis, Database Design and SQL Server.
With these skills why not reduce overheads and outsource your technical work to us?